Dear readers,
Back from my trip and what else to tell than that Berlin is GREAT!!! Too bad we did not have good weather, but it did not hold us back from enjoying Berlin as much as possible, only then in a different way! Let's say my friend and I have a great knowledge as to how Berlin is today instead of back in the days, meaning we enjoyed Berlin's nightlife A LOT! So not a problem to share some tips for a great night out in Berlin, as that is exactly what we did 5 days long lol! Whenever you're planning to visit Berlin, keep in mind that nightlife starts at around 3 AM. This, because Berlin does not obligate clubs to close at a certain time, so dancing until 10 AM is really normal! Also, Berlin is famous for its electro and techno, so don't expect a lot of clubs with reggea or salsa.
Anyhow, if you want to have a really great, but weird experience, try to go to "Suicide Circus" (I know, freaky name) or to "Berghein/Panorama Bar". These two clubs are so amazing! Believe me, you will have something to talk about. Just don't pay attention as to where the clubs are located nor to the decor!
Here a photo of Berghein: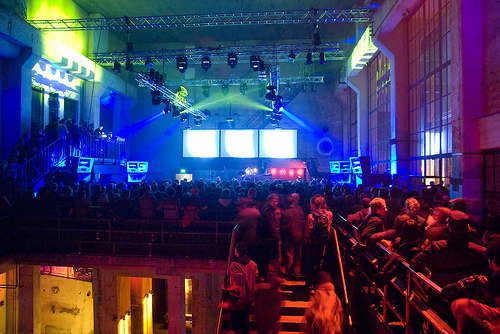 And here one of Suicide Circus:
Another great lounge club is "Club der Visionaire" which is located at a waterside. Here a photo taken while it was still light outside:
Have you ever been to Berlin? If so, what were your favourite places to go to at night?
Love, Melissa