Dear readers,
Some celebs have such great taste of fashion! I really dig the style of Blake Lively. She knows what looks good on her and is not afraid to wear statement items. What do you think of her following looks? And could you see yourself wearing the same kind of clothes?
Love, Melissa
Blake Lively wearing a green jumpsuit from Miss Sixty in combination with a statement necklace and some simple gold sandals.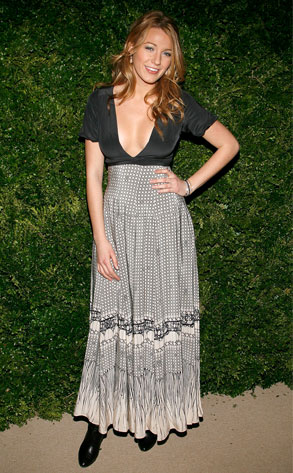 Here she's pulling of a bohemian look, while still looking elegant.
On her way to attend Paris Fashion week, Blake looks really stylish in her soft yellow cape and romantic lace dress with golden sandals with ankle belt. These three items are what it's all about this spring and summer and she knows it!
This is Blake Lively at her best! Although wearing a statement item (sequined legging), she keeps the look simple and clean.
While looking at pictures of Blake Lively, one thing comes to eye: she loves sequines! This jacket is such an eyecatcher. I love how she combines it!